Categories
Categories
Brands
Brands
Panda Internet Security | 1-Year | 1-Device | Global | Download
Panda Internet Security | 1-Year | 1-Device | Global | Download
Panda Internet Security | 1-Year | 1-Device | Global | Download
Panda Internet Security | 1-Year | 1-Device | Global | Download
Product Description
This product is a DOWNLOAD ONLY. Guaranteed 100% genuine. You will not receive any physical media in the mail. This product is delivered electronically through email only.
We aim to fill all orders within one hour if placed during business hours (EST): M-F 10am-10pm, Saturdays 10am -2pm for our valued partners

Live Tech Support for your download

Download and install in 5 minutes

Easy installation!! Step by Step picture instructions guide you quickly through the process with most downloads
For expedited service or questions about your order, please call our sales experts at 813-444-4321. We're happy to help!
Panda Internet Security 2017 | 1-Year | 1-Device | Global | Download
Purchasing a single license of Panda Internet Security entitles you to the antivirus protection for Windows or Android only
PROTECT YOUR FAMILY AND YOUR IDENTITY AGAINST INTERNET THREATS.
Use the Internet with complete peace of mind. Protect against viruses,
online fraud, identity theft, unsolicited emails and cybercriminals.
Protect your identity while you are browsing
Protect your PC and your networks against viruses and other threats
Chat and use the mail without worrying about online fraud or spam
Back up your data in case you have problems with your PC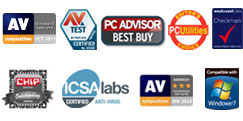 We understand your real needs
Life is about making the right choices.
Protect your family and your identity against Internet threats with Panda Internet Security.
Use the Internet for everything, like shopping and banking online, with total peace of mind and without interruptions.
Panda Internet Security protects you from viruses, hackers, online fraud, identity theft and other known and unknown threats.
It also keeps your inbox spam-free, and allows you to surf the Web privately and securely with the new Panda Safe Browser. Your children will navigate safely on the Internet with Parental Control.
Panda Internet Security is easier, lighter, more secure and more complete than ever!
Find Similar Products by Tag
Product Reviews
Find Similar Products by Category
Customers also viewed